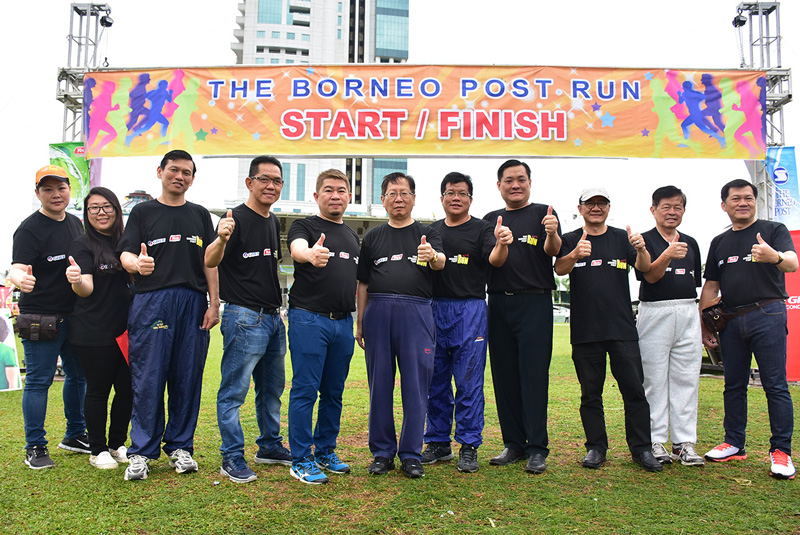 SIBU: More than 2,000 runners took part in the eighth The Borneo Post Run in fine weather at the Sibu Town Square Phase 1 yesterday.
KTS Group of Companies deputy managing director Temenggong Dato Vincent Lau Lee Ming jointly flagged off the event with Sibu Municipal Council (SMC) deputy chairperson Rogayah Jamain.
"Whether you are new to running or have been running for so long, I believe you have somehow reaped benefits from joining a fun run or marathon and training for it," Lau said in his speech.
He said running also offers mental health benefits such as stress relief and alleviation of anxiety.
"It also improves learning abilities, sharpens memory, and helps us sleep better," he said, adding that many running events are also fundraisers. These kinds of events are mostly hosted by non-profit organisations to raise money and donate to selected charities. When we join such events, we have the opportunity to help others and contribute something to the community."
He added that since its inception in 2011, The Borneo Post Run has become part of See Hua Group's corporate social responsibility to promote a healthy lifestyle among Sibu folk.
Prior to the run, the Super Jane Fitness Dance and Studio led the warming up exercises.
The Borneo Post Run was organised by The Borneo Post with main sponsor Gree Malaysia Sdn Bhd and support from SMC. Other sponsors were Moma water, Regal Marketing Sdn Bhd, Kinetic Food Trading Sdn Bhd, Summer Pacific Sdn Bhd, Cass Bridal's Secretary, Super Jane Fitness and Dance Studio, and Sibu Swan Cycling Club.
The traffic police, Rela, and Malaysian Red Crescent Sibu also provided assistance. The run was divided into 10km Men's Open, 10km Ladies' Open, Boys' Junior, Girls' Junior, and 5km Fun Run.